A Visit to Nintendo Store Osaka
Posted On July 6, 2023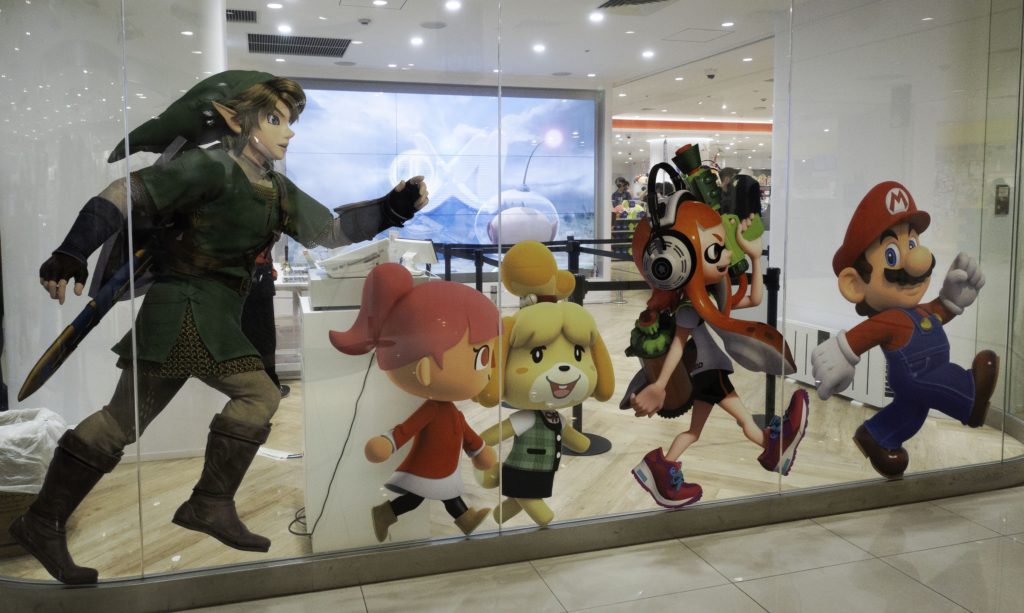 Last week I finally achieved a goal and made it in to Osaka to visit the Nintendo Osaka store. It opened last November but for a long time it was very, very hard to get into — it was so popular that they limited entry using timed tickets, and the only way to get a ticket was to line up in front of the building at 6am in the morning to try and be one of the lucky few for that day. I considered it at the time, but ultimately decided that although I love Nintendo and many of its creations, I do not love it enough to get up that early. Mario (and Link, and Pikmin, and all the others) would have to wait.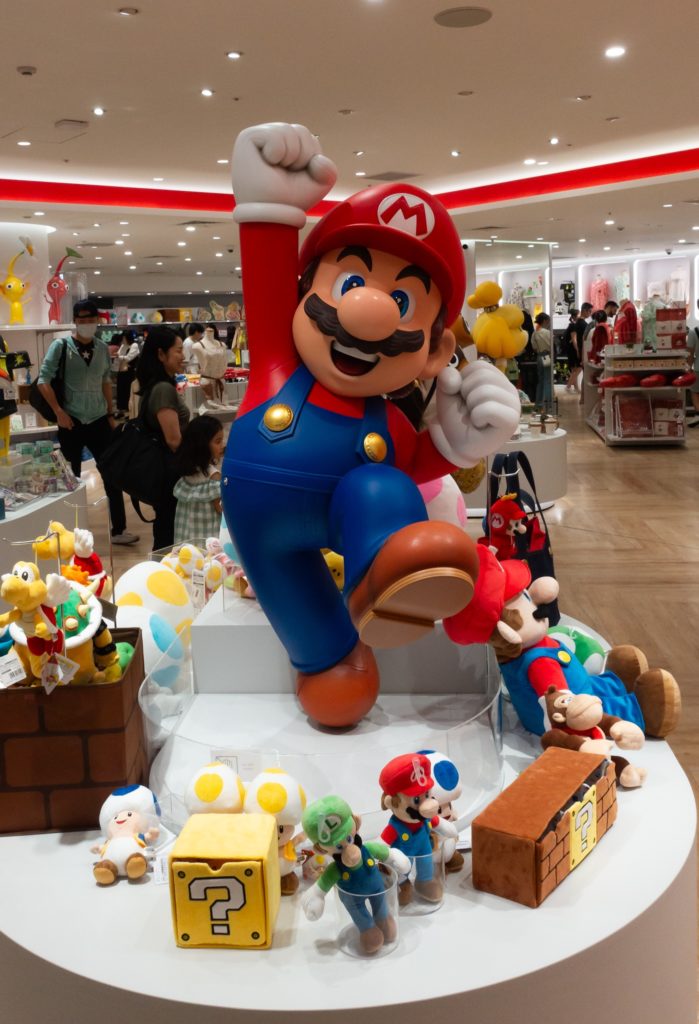 But seven months later I decided the hype had probably died down enough to let me get into the store without having to wait, so I set off to try out Nintendo's latest offering. There are two official Nintendo stores in Japan, one in Shibuya, Tokyo, which opened in 2019 and is still regularly so busy that you need to get tickets to visit, and now the new Nintendo Osaka store. The Osaka store is also nearly three times larger than the original Tokyo store!
For reasons that honestly confuse me, the Nintendo store is located on the thirteenth floor of the Daimaru building, next to the JR Osaka station. It shares the floor with a variety of other similar stores, namely the Pokémon Center Osaka , the Capcom store and cafe, and the One Piece Mugiwara store. It's a veritable nerd paradise and I love it up there, but Daimaru itself is a very high-end department store with a history stretching back to 1717, with floor upon floor of beautiful, expensive, classy goods, and then a sudden floor of nerd shops tucked just below the restaurant level. It's a good location in every regard — easy to find, easy to access, right next to JR station and within easy walking distance of all the other main train lines, but every time I go in there I always beeline straight for the elevators, trying not to look like I don't belong!
This time, I arrived in the early afternoon and was relieved to discover that, as I'd hoped, tickets to the Nintendo Store were no longer required, though apparently on high traffic days like holidays they are still sometimes in use. The store is, as promised, huge, and has sections for all their most popular games. Mario, unsurprisingly, has the lion's share, but Zelda, Animal Crossing, Splatoon and Pikmin are also all well represented. There are smaller sections for various other things as well — I was particularly taken with the range of goods based around the design of the original Famicon.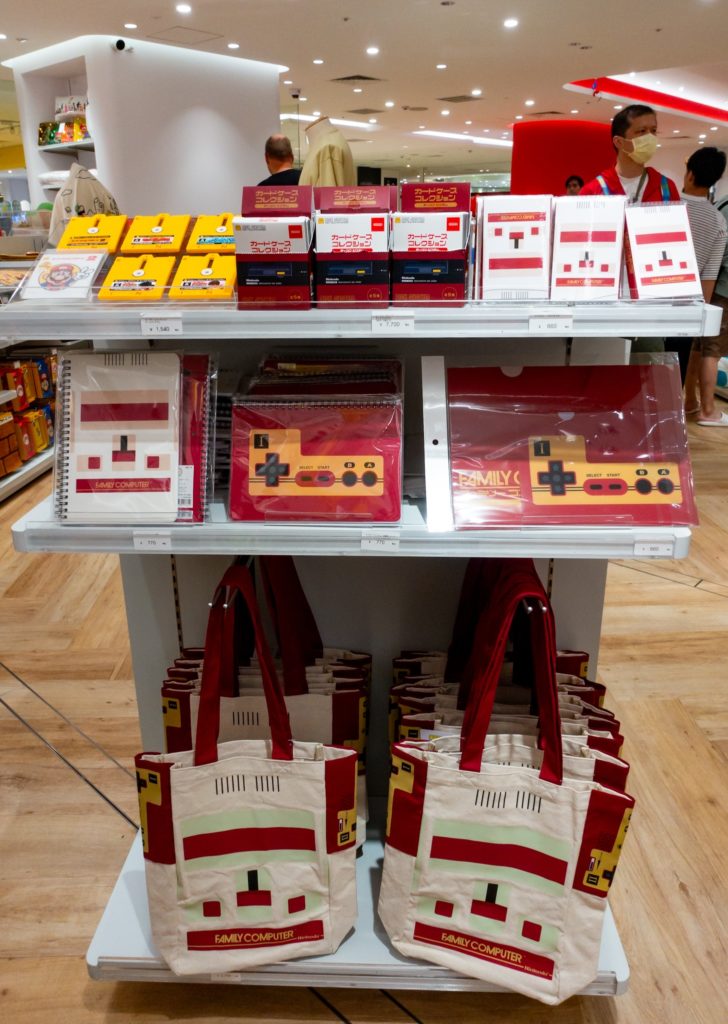 The store carries all the normal things you'd expect to find in a store dedicated to video game merchandise — key chains, t-shirts, plush toys etc., but it also has a lot of less standard items. Animal Crossing and Pikmin in particular have a large range of kitchen goods, and Animal Crossing's current range of pastel-coloured stationary is almost unbelievably cute. Splatoon has pool toys — appropriate for a game populated by squid — and Mario has, honestly, a bit of almost everything. I was a little disappointed to find the Zelda section quite picked over when I went there, but considering that Tears of the Kingdom was only recently released, it wasn't too surprising that there wasn't much left.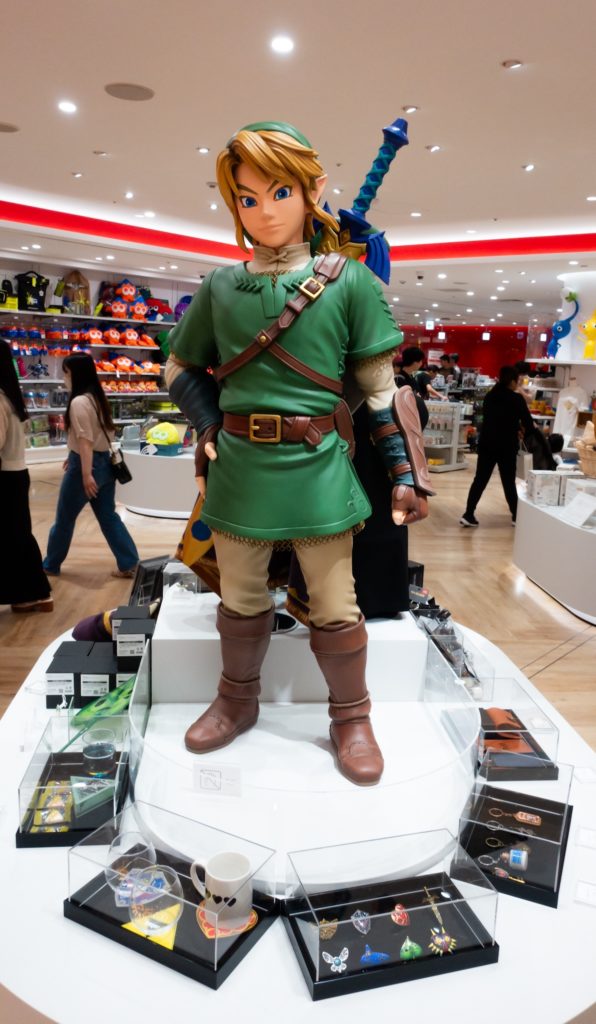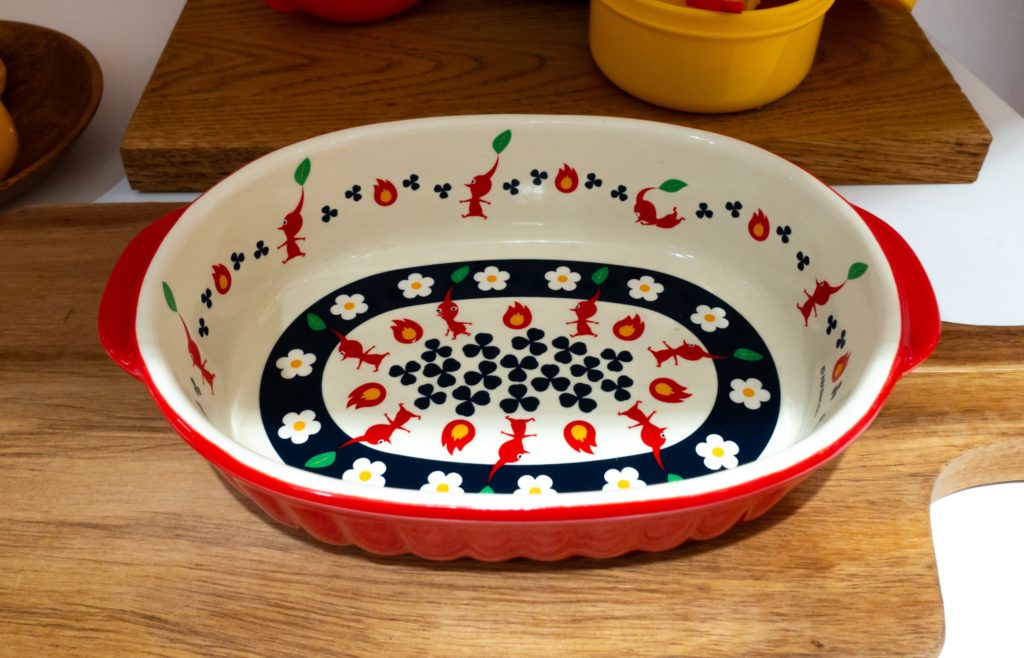 One thing that is slightly frustrating, though very understandable, is that due to the speed in which things are sold out and then restocked, there will often be merchandise in the displays which are not necessarily available on the shelves at the time of your visit. I could admire the beautiful enamel Zelda pins in their display case, but on the day I visited there were none on the shelf. I managed to snag one of the little Korok pouches, but by 3pm they were all sold out too. I do wonder if arriving at or near opening time might improve the selection, so next time I think I'll try to go in the morning and see if I can get a few more of the things I want.
After I finished looking around the Nintendo Store, I briefly visited the Pokémon Center, but to my surprise it was even more crowded than the Nintendo Store had been, so I did a quick pass through there and then went to look for a cafe. I found the "Salon Watashi to Tamago" — "Salon Egg and Me" and decided that sounded perfect. It's a cute little retro-styled cafe that is actually an omurice speciality restaurant. Omurice is a kind of omelette wrapped around rice, normally flavoured with ketchup, but although I love omurice, it was four in the afternoon so I decided I would try their "castella cake style pancake" instead. It turned out to be a very fluffy oven-baked pancake made with lots of egg yolks and honey, and it was delicious! I would definitely like to go back and try their omurice one day too.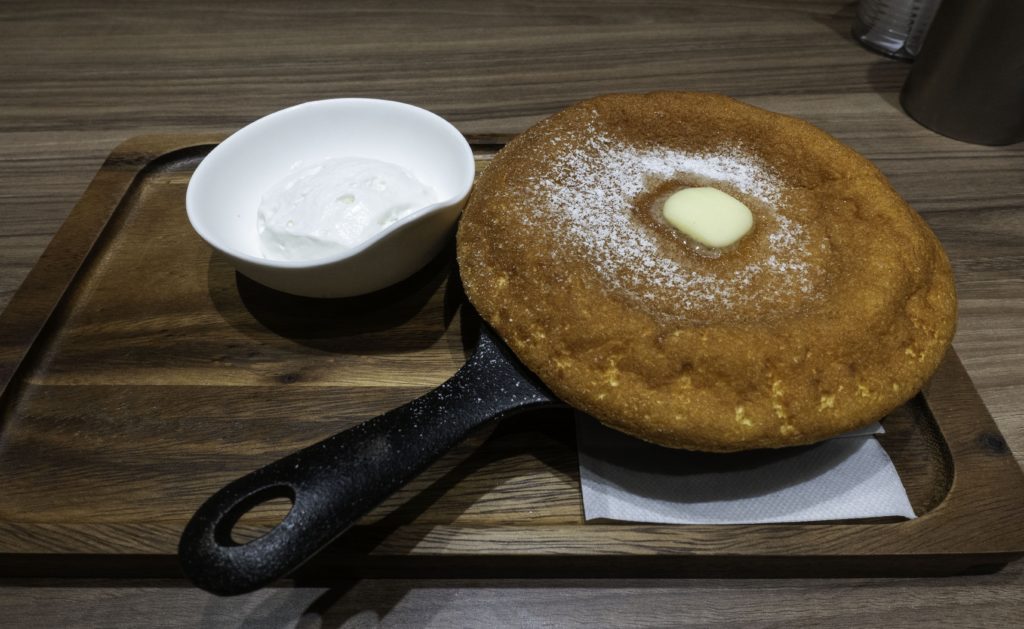 Overall, Nintendo Store Osaka is exactly what it says on the tin — a store, in Osaka, which sells all things Nintendo. I would say that it's better than a lot of similar stores though, thanks to its entertaining layout and wide selection of merchandise. Nintendo has put in a lot of effort to make sure that all kinds of fans are represented here, not just in terms of variety of games represented, but also in terms of variety of items. I appreciate that I can express my love of Pikmin or Animal Crossing not just through t-shirts or keychains, but also shopping bags, stationary and adorable cookware. If you go on a weekend or holiday it is inevitably going to be crowded, but on a weekday the shop, while still busy, doesn't ever feel uncomfortable. And you can drop by the Pokémon Center while you're there!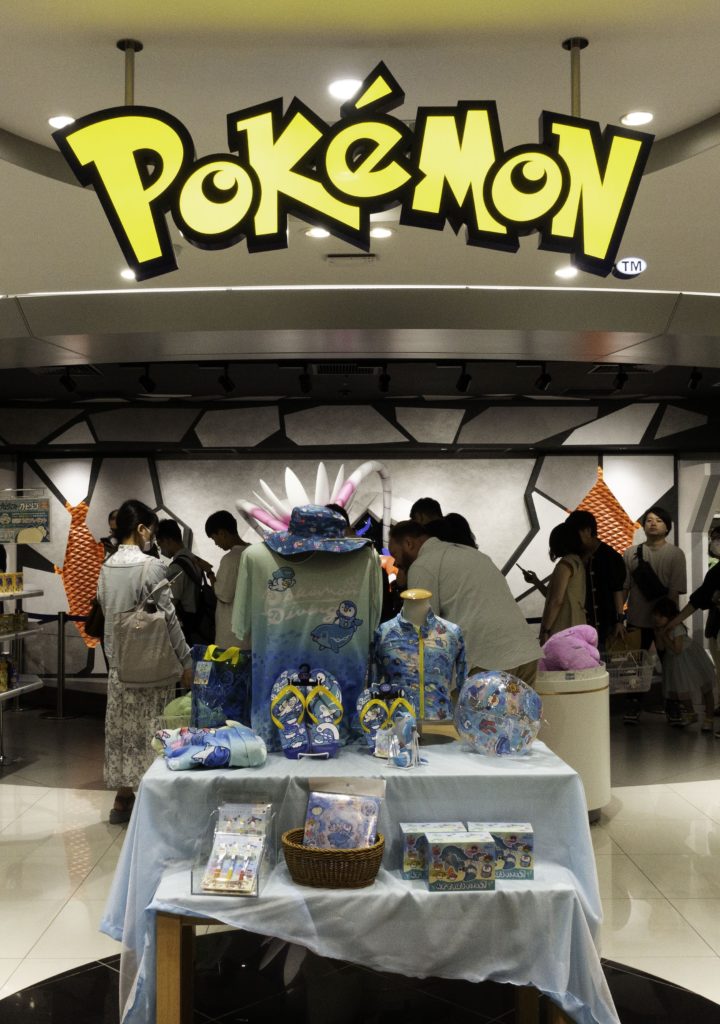 ———————
Support me on Patreon or Ko-Fi!
———————
Details
Website: https://www.nintendo.co.jp/officialstore/ (Japanese)
Open: 10am-8pm daily
Address: Nintendo OSAKA, Daimaru Umeda 13th floor, 3-1-1 Umeda, Kita Ward, Osaka 〒530-0001
〒 530-0001 大阪府大阪市北区梅田3-1-1 大丸梅田店13F
Access: Less than 5 minutes walk from JR Osaka and Hanshin Umeda stations, 10 minutes walk from Hankyu Umeda and Midosuji Osaka stations.