The Osamu Tezuka Manga Museum
Posted On April 14, 2023
Osamu Tezuka is a name known by anime and manga fans around the world. Known interchangeably as the "father of manga", the "grandfather of manga" and the "god of manga", his works are indisputably the beginning of modern anime and manga. His output was prodigious, and he's known internationally as the creator of Astro Boy, Kimba the White Lion, Blackjack, Metropolis and many others.
Tezuka was born in Osaka, but he grew up in Takarazuka, living there between the ages of 5 and 24. Takarazuka is understandably very proud of this fact, and the clear influence his time there had on his later works. There are tiles embedded in the sidewalk around Takarazuka with illustrations of his work, and the Hankyu Takarazuka train station plays the Astro Boy theme when trains depart for Osaka. (If they're instead departing for Nishinomiya, it plays 'Sumire no Hana', the Takarazuka Revue's signature song.) But the biggest tribute to his work is the Osamu Tezuka Manga Museum, found ten minutes walk from Hankyu Takarazuka station.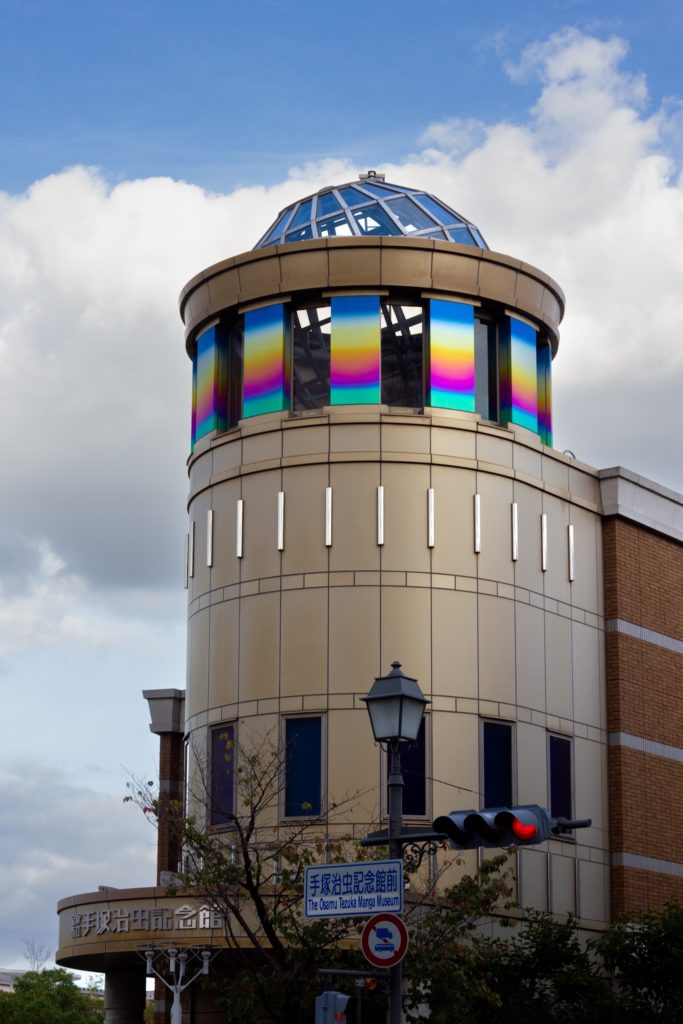 The first thing to greet visitors is a large statue of the Phoenix, titular character of one of Tezuka's most famous works, though it's not as well known in the English speaking world as it is in Japan. Around it on the sidewalk, his characters have left hand and foot prints in the cement. The rainbow glass dome at the top of the museum is also quite striking, and makes it fairly easy to find.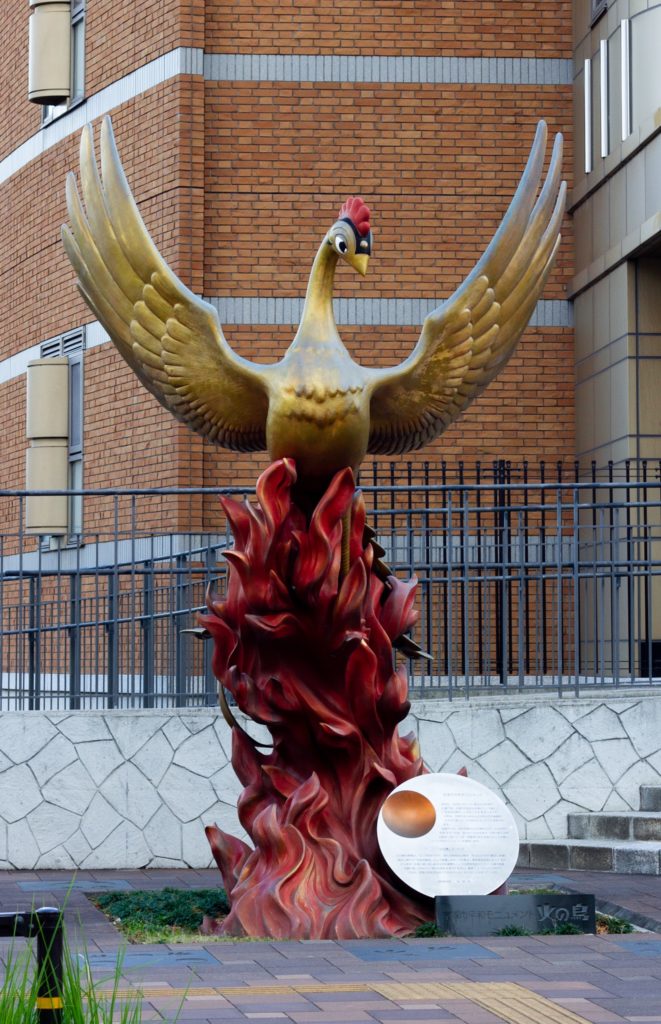 Inside, on the main floor there is a comprehensive timeline of Tezuka's life and works in both Japanese and English, along with many items including original printings of many of his works, and vintage toys and merchandise. There's even a pair of his iconic glasses and his beret! There's also a small movie theatre which shows a selection of short animations — both hard-to-find Tezuka works and animations made especially for the museum which can't be seen anywhere else. A new showing starts every twenty minutes, and the movies being screened change every month.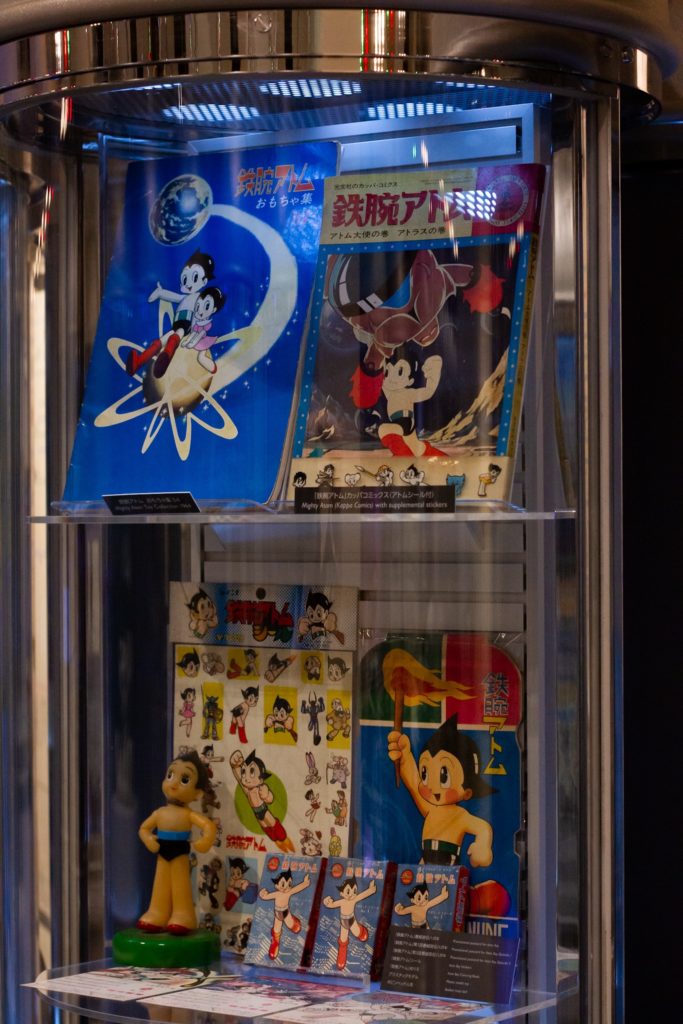 In the basement, there is an 'animation studio' where you can join a workshop to create your own short animation. I haven't done it myself yet, but it seems to be a hybrid of old and newer methods — you draw your pictures with pencil, paper and a lightboard and then it's scanned in and displayed on a screen, where you can do some basic colouring and adjustments. It's nothing you couldn't do on a smartphone, but there's a distinct charm to doing things the old fashioned way with paper and pencil.
Going upstairs, the first area you'll encounter is the special exhibition hall. The exhibition changes four times a year, and it covers a wide range of subjects, including traveling exhibitions of famous works by other artists and in-depth displays about Tezuka's own works. On my last two visits I was lucky enough to catch the Yotsuba &! exhibit and the Macross exhibit. Generally, photography is forbidden inside the exhibition hall, but there will always be a few things it's okay to take photos of, or with. (And the museum's staff are very patient and willing to take photos of you looking like an absolute weirdo.)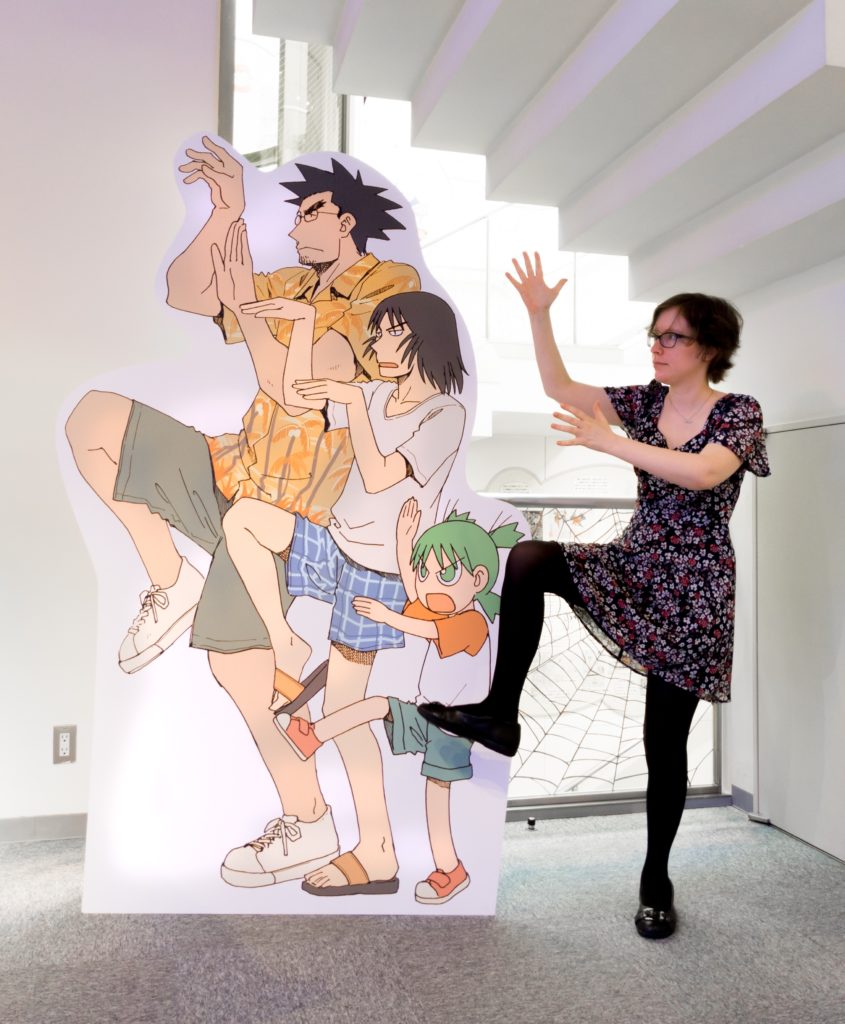 After making your way through the exhibition hall, you'll come to the gift shop, which has a wide selection of Tezuka-related goods, as well as goods relating to the current featured exhibition. There are always some exclusive exhibition items that can only be bought there — for the Yotsuba&! exhibition it was a tote bag, but rather more excitingly, for the Macross exhibition Macross Frontier artist Risa Ebata drew two crossover pieces of art featuring Macross Frontier and Tezuka characters, and the Museum drew a great number of Macross characters in Tezuka's style.
Next to the gift shop there is the Tezuka library, which has a selection of his manga in multiple languages, including English. There's also an interactive video display, which is somewhat outdated and only in Japanese, but it does have episodes of many of his earliest anime available to watch, including the original 1963 Astro Boy. There is also a display on the wall which includes a collection of Tezuka's notes and unpublished works, including manga and art he drew as a schoolboy.
The Osamu Tezuka Manga Museum is a very enjoyable way to spend several hours, though it certainly won't take all day to work your way through. It is, as best as I can tell, fully accessible, and most of the permanent exhibitions include fully translated English information, though the temporary exhibition generally doesn't. It's a must-see for Tezuka fans and anybody interested in the history of anime and manga, and a pleasantly enjoyable time for everybody else.
Nearby
There's a lovely park next to the museum with a statue of Kimba the White Lion, as well as a formal garden and some benches. Across the road to the south is Cafe de Voila, which sells some of the best pancakes I've had the pleasure of eating — more on that in a later post, I hope.
Details
Open: 9:30am – 5pm, every day except Wednesday
Price: Adults ¥700, high school students ¥300, elementary school students ¥100
Address: 7-65 Mukogawacho, Takarazuka, Hyogo 665-0844
兵庫県宝塚市武庫川町7-65
Access: A six minute walk from the Hankyu Takarazuka-Minamiguchi station, or a ten minute walk from either the Hankyu Takarazuka or JR stations. The Takarazuka-Minamiguchi walk is quicker, but if you go from Takarazuka station you can walk down the picturesque Hana no Michi — Flower Road — in front of the Takarazuka Grand Theatre.